"Integrating Buddhist Practices Into Everyday Life"
Loyola Marymount University, 1 LMU Drive
Los Angeles, California 90045-2659
Location: University Hall 1866
CRN: 51181 / YGPX 879.02
1.0 Semester Hour
Tuition: $190
Click here to / ENROLL
Schedule: Thursdays
7:30 – 9:30 pm
October 9 – November 6, 2008


Instructor: Kusala Bhikshu is an American-born Buddhist monk ordained in 1994. He has been involved in community service for more than a decade as a Buddhist volunteer for L.A. County State Prison for Men, Central Juvenile Hall in downtown Los Angeles, the University Religious Conference and the University Buddhist Association at UCLA, the Spiritual Care Committee at the UCLA Medical Center, and Buddhist Chaplain for the Garden Grove Police Department. Kusala is the web master of www.UrbanDharma.org a Buddhist web site and has posted over 90 Podcasts ( wwwDharmaTalks.info).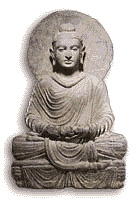 Class Description: This course offers a detailed introduction to the teachings of the Buddha, the practice of Buddhism and applying the teachings and practices to everyday life. The Buddha in his forty-five years of teaching taught two things: Why humans suffer and how to end the suffering. His teachings on the Four Noble Truths will be looked at in detail. The practices of Buddhism, Precept Practice and Meditation Practice will be explored through stories and personal examples. And finally, the course will show how to integrate and use the "Four Truths" and "Buddhist Practices" to reduce suffering and find peace in everyday life.
Who should attend? Open to All.
Recommended readings: Teachings of the Buddha by Jack Kornfield; Breath by Breath: The Liberating Practice of Insight Meditation by Larry Rosenberg; Meeting Faith: The Forest Journals of A Black Biddhist Nun by Faith Adiele
LMU Extension | 1 LMU Drive, Suite 1840, Los Angeles, CA 90045 | 310.338.1971