The Making of the Urban Dharma Podcast - Kusala Bhikshu


This is a short 'how to' on the making of the Urban Dharma Podcast... First off, I needed an Audio Recorder, but which one... I chose the Olympus DS2 after going to Amazon.com and doing a search for audio recorders. I then walked to a local radio shack and bought two lapel mic's and splitter for my talks and interviews.
Right from the start, I wanted to record live presentations... There is a certain energy a speaker and audience create, I wanted to capture that. The DS2 is small and fits nicely in a pocket... I set the sound at 'High Quality Mono', which gives me a little over 4 hours of recording time, and the lapel mic allows me to roam around and interact with the audience.
I use my PC Desktop and the 'DSS Player' software for editing and archiving files (there is a small charge to upgrade the 'DSS Player' software). I use the DS2 to record the introduction and ending, which I then join to the original talk using the 'DSS Player' software.
The next step is to download the completed .WMA file into a 'Flash Drive' so I can transfer it to my 'Mac Mini.' The software on my 'Mac Mini' enables me to create and publish the podcast to the internet.
On the Mac Mini I convert the .WMA file into an .MP3 file using a shareware ('EasyWMA')... Now it's time to open 'Podcast Maker'... It takes the converted MP3 file, tags it and creates the finished product... I find 'Podcast Maker' easy and intuitive use. I publish the completed podcast into my local 'Dreamweaver' podcast folder and FTP it to the internet. I use 'Bluehost' for web hosting... They allow me 2000 gigs of bandwidth transfer a month... Podcasts can really eat up your bandwidth... Urban Dharma as of January 2007, uses between 100 and 200 gigs of bandwidth a month, so plenty of room for growth. Well, that's it... There are many ways to do a podcast, this is the one I came up with.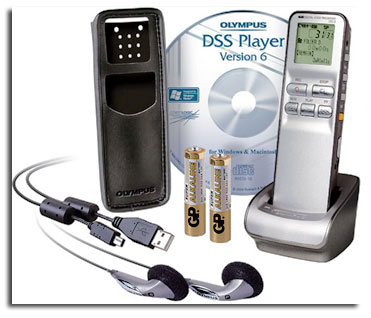 Olympus DS-2 / Digital Audio Recorder


Amazon.com Review - The advantages of digital voice recorders are numerous: superior sound, long recording times, and the convenience of built-in memory (much handier than hauling around several microcassettes). Enter the high-performance Olympus DS-2, which makes professional interviewing and dictation easy and efficient. With 64 MB of internal memory delivering up to 22 hours of total recording time in Long Play mode, the device is great for archiving long meetings or lectures, or for researching huge projects that require dozens of interviews. Users also have the choice of recording at several other speeds, including extreme high-quality modes that offer far less recording time (as little as one hour and five minutes) but much better audio resolution. The latter modes are more suitable for recording soft voices or when taking down complex song ideas--a process that's further assisted by the built-in stereo microphone designed to pick up all sides of a conversation with equal clarity.

The DS-2 is a breeze to use thanks to its straightforward front panel, from which users can quickly access or move files (the recorder comes with five folders, each capable of holding 199 files), set the alarm, or change the recording mode. Multitasking users will also delight in the voice activation function, which enables hands-free recording--a must when you're busy taking notes. Voice activation also saves battery life by powering off when no sound is detected. And when you just don't have time to attend to the details on the spot, you can set the DS-2 to record automatically over a fixed span. Simply enter the start and end times and the timer function is ready to go.
And though the DS-2 is primarily a recorder, the package comes with DSS Player software for editing and archiving files. The software offers a nice way to delete long silences, eliminate small talk, or combine two small but related passages into one large statement. Users can then transfer the files (they record in high-compression DSS and WMA formats) to a PC or Mac via the included USB docking station and cable. Once transferred, you can save them in perpetuity while freeing up the internal memory to record other interviews or meetings.
Additional features include a backlit LCD screen that shows the date, time, battery life, and more; 3.5 mm headphone and microphone jacks for added flexibility; and several basic and advanced playback options, including slow, fast, skip, and repeat. And best of all, the variety of functions come packed in a chassis that fits conveniently in your hand or pocket--quite unlike the bulky tape recorders of yesteryear. The DS-2, which also comes with a pair of earphones and a carrying case, runs for 18 hours on a single pair of AAA batteries (included) and carries a one-year warranty.
What's in the Box - DS-2 voice recorder, USB docking station, USB cable, stereo earphones, carrying case, DSS Player software CD, two AAA batteries, user's manual.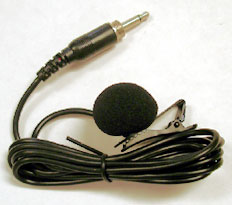 Radio Shack / Lapel Mic
---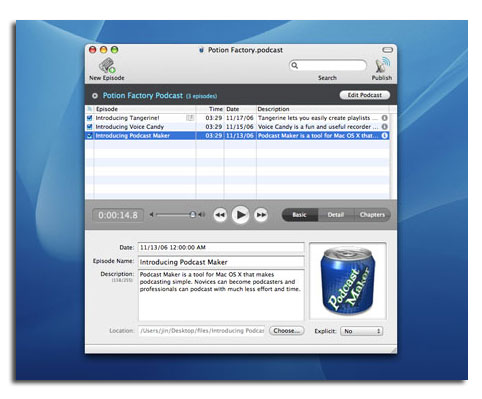 Podcast Maker / Potion Factory

Podcast Maker is a tool for Mac OS X that makes podcasting simple. Novices can become podcasters and professionals can podcast with much less effort and time.
Content

Create your content the way you usually do: with GarageBand, Audio Hijack Pro, QuickTime Pro, etc. Then drag in your content into Podcast Maker. You can drag files directly in from iTunes and iPhoto. You can even import files that are already out on the web. As long as it's a podcast friendly format (mp3, m4a, mov, mp4, m4v, pdf) Podcast Maker will podcast it.
RSS

Podcast Maker creates RSS 2.0 and iTunes compatible RSS XML files for your podcast so that you don't have to fuss over the details of getting it right and fully standards compliant.
Enhanced Podcast

Add chapters with images and links to your podcast. With enhanced podcasts your audience will be able to see what you are talking about and visit the websites that you are talking about with a click of the mouse. This is a great way to podcast your lecture or presentation. Podcast Maker is considered by many to be the best enhanced podcast creator. You can't even do this stuff on Windows.
Preview

See what your podcast will look like at the iTunes Music Store. Preview your enhanced podcast so that there are no surprises once your podcast goes live.
Publish

There are a multitude of publishing options: .Mac, FTP, SFTP, and local folder. Choose .Mac if you already have a .Mac account and want a pain free, zero configuration, one-click publishing. If you already have web hosting, use FTP or SFTP to transfer your podcast. Podcast Maker uploads only new and changed episodes of your podcast.
Metadata

During the publishing process, Podcast Maker embeds your cover art image and other information into the mp3 and m4a file so that they are visible in both iPods and iTunes. Little touches like this will make your podcast shine.
Rescue Your Podcast

You already have a podcast. But, you are finding out that podcasting takes too much time and effort. Import your feed into Podcast Maker. Let Podcast Maker save your podcast.