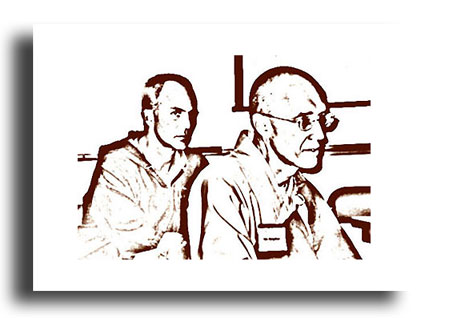 Fr. Cyprian Consiglio and Rev. Heng Sure


Dedication of Merit/Compassionate and Wise by Rev. Heng Sure

We are two monastic communities, Mahayana Buddhist and Benedictine Catholic, who have used a piece of Loreena McKennitt's music for our worship. We have recorded a song called (alternately) "Dedication of Merit," and "Compassionate and Wise."



Dedication of Merit/Rev. Heng Sure - Free Download

- MP3(3MB)



May every living being,
Our minds as one and radiant with light,
Share the fruits of peace
With hearts of goodness, luminous and bright.

If people hear and see,
How hands and hearts can find in giving, unity,
May their minds awake,
To Great Compassion, wisdom and to joy.

May kindness find reward,
May all who sorrow leave their grief and pain;
May this boundless light,
Break the darkness of their endless night.

Because our hearts are one,
This world of pain turns into Paradise,
May all become compassionate and wise,
May all become compassionate and wise.



The song "Dedication of Merit" (See Video Performance) was born as an antidote to the grief and helplessness following 9/11 and the fall of the two towers. 250 Buddhists and Catholics had gathered at a Benedictine Convent in Indiana to investigate the Rule of St. Benedict from a Buddhist perspective.

Sister Mary Margaret Funk invited the Buddhists to provide a dedication of merit, a practice of sharing with the world all the goodness created by any wholesome action. Using the mind to broadcast goodness is an effective form of spiritual activism.

The Abbot of the City of Ten Thousand Buddhas and I accepted the challenge and the night before the conference concluded, we managed to translate into English the 1300 year-old Chinese Buddhist verse. Needing a tune, my thoughts spontaneously recalled Ms McKennitt's "Dark Night of the Soul." I matched our translation and her melody and they joined like body and soul.

The next day the participants, holding candles, processed out to the driveway of the convent, around the white marble image of the Blessed Virgin Mary, who resembles in so many ways Guan Yin Bodhisattva, the Awakened Being of Great Compassion. I introduced the new song, saying, "After meritorious deeds of any sort, a Bodhisattva, an Awakened Being, can share the goodness with the world by making a wish and dedicating the merit. The scope of your mind and the sincerity of your heart determines the efficacy of your vows. When, as today, so many hearts dedicate together, the effect can change the world in profound ways."



On that September day, one week after the attack in New York, our hearts that sought relief and healing carried our wishes aloft, borne by the new song. Ms McKennitt's melody delivered healing - - we could almost see the thoughts of the assembly take form and rise on the wings of sacred music. Dozens of people came forward afterwards and thanked me for the unexpected healing delivered by a Buddhist-Catholic liturgy, a song that sounded to them as familiar as a hymn and as powerful as prayer. This experience demonstrated to me the ability of music to move the heart and benefit the world, beyond religious boundaries.

At another Buddhist-Christian meeting, after I heard Cyprian Consiglio, a Christian monk and fellow guitar player, lead the singing of intercessory prayers, I said to him, "We Buddhists have the same kind of practice," and told him about the song. After hearing it sung by my Buddhist congregation, he asked if he might sing it.

He and his collaborator, John Pennington, adapted it a bit from my version, adding percussion, and a Sanskrit chant, the metta bhavana mantra. Since that day, Cyprian has performed the song to conclude liturgies and concerts around the globe, from India to Italy, from New Jersey to New Mexico. He calls it "Compassionate and Wise" and he reports the same response: people feel healed by the tune.







Fr. Cyprian introduces it this way:


"This is an intercessory prayer taught to me by my Buddhist brother monk, Rev. Heng Sure. The lyric is translated from Chinese and its melodic setting was written by a gifted Canadian composer, Loreena McKennitt. She wrote the melody for a verse by a Catholic Mystic, St. John of the Cross. I'm a Roman Catholic hermit and I've added a Sanskrit peace mantra to bring it full circle. I'm on this bridge to world peace and I'm staying on it!" (Fr. Cyprian's new CD "Compassionate and Wise" is available on iTunes.)


Compassionate and Wise - Fr. Cyprian Consiglio - Free Download - MP3(5.3MB)


Fr. Cyprian and John Pennington have recorded the song but not released it; now the three of us are thrilled to learn that Ms McKennitt has most graciously given permission for us to circulate the song, and continue its healing ministry. Our respective Buddhist, Catholic and Interfaith congregations will be grateful, and living beings can benefit.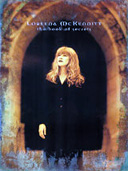 Loreena McKennitt - Web Site

I hope that our versions will result in heightened interest in Ms McKennitt's the "Dark Night of the Soul" tune and her on-going ministry of setting of transcendent lyrics into transcendent melodies. "Loreena's full catalogue is now available to music lovers on iTunes."


Rev.HengSure©2005
___ ___ ___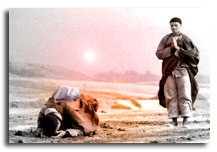 American Pilgrimage - Three Steps, One Bow for Peace
eBook - 352 Pages - Text and Photos - (1.6 MB) - Free Download


News From True Cultivators — Heng Sure & Heng Ch'au.
The letters of Heng Sure and Heng Ch'au... Three steps and a bow. That's how they walked it. Two monks on a pilgrimage of peace that took them through a series of wide-ranging encounters and extraordinary experiences -- within and without. These letters and photos are a record of their amazing journey.
Two American Buddhist monks on a journey of a lifetime, from downtown Los Angeles to the City of Ten Thousand Buddhas in Talamage, California. A journey of more than 800 miles that took two years and nine months to complete. They bowed in peace, and for peace. Touching their foreheads to the ground, opening their hearts with one wish for the world. Peace. For everyone, everyday, everywhere.