Faces of Berkeley ' Macintosh Monk' Spreads Digital Dharma
By JULIE STRACK - Contributing Writer / Wednesday, November 2, 2005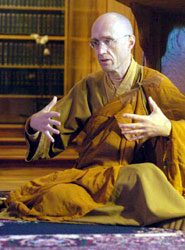 PHOTO/SALGU WISSMATH
Reverend Heng Sure, a Buddhist monk living in a Berkeley monastery, hopes to reach Western audiences by podcasting his lectures on Eastern philosophy and veganism.

When Reverend Heng Sure, Ph.D. isn't meditating at the Berkeley Buddhist Monastery or teaching at the Graduate Theological Union, he's recording lectures for his podcast and composing on his 12-string acoustic guitar.
The 56-year-old Ohio native, who has lived in Berkeley for 33 years and has been a celibate Buddhist monk for 29 years, spreads his personal blend of traditional Eastern enlightenment philosophy and his vegan lifestyle through intimate lectures and global podcasts.
Sure gives weekly lectures at the Downtown Berkeley monastery, where he also lives, translating the the Sutra, Buddhism's written teachings, line by line. He was recently awarded his doctorate degree by the Graduate Theological Union, where he also teaches classes.
To keep up with fellow technologically savvy monks, Sure began podcasting his lectures four months ago on the Buddhist Text Translation Society's Web site. He also spoke at an annual (www.vegsource.com) conference several weeks ago, where he performed his original song, "If I Were an American Beef Cow, I'd Be Mad Too" on his guitar.
Sure, who received his master's degree from UC Berkeley's former Graduate School of Oriental Languages in the 1970s, said he hopes his distribution efforts help make Buddhism accessible to Western audiences. He aims to teach students how to have fulfilling relationships and dialogue with family and community.
"I'm a Macintosh monk," Sure says. "Podcasting my lectures makes them available to people who might not otherwise have access to the Dharma. Last week, I was fielding questions from people in Australia, real-time."
Although he praises the convenience of technology, Sure worries the lack of human interaction in podcasting could dilute part of his message.
"Communication is very fragile," he says. "When some of the senses, such as sight, touch and smell are lost, it is harder to achieve wisdom."
Nevertheless, Sure believes podcasting has its advantages. He plans to start prerecording Chinese-language lectures, which he hopes will increase the size of his audience in China.
In Berkeley alone, Sure has a regular listener base of about 70 families who frequent his lectures as well as a youth group and weekly roundtable discussions he also directs.
Sure says that over the years, Berkeley has built a vibrant and diverse Buddhist community comprised of Chinese, Taiwanese, Vietnamese, white, black and Hispanic worshippers.
Sure himself decided to become a monk after becoming disillusioned with the peace movement of the 1960s. While studying Chinese text in UC Berkeley's graduate program, Sure met his mentor, the Venerable Master Hsuan Hua, at a Bay Area Buddhist monastery and realized he had found his calling.
"When I walked in to the room, I felt as if I had been there before," he says.
Sure spent nearly three years making a pilgrimage across 100 miles of California, travelling on foot and bowing deeply every third step. He also took a six-year vow of silence which taught him to "tell the truth and drop the illusion in his conversation."
Since then, he has practiced his religion in Calgary, Tibet and Taiwan, but says his heart has always been in Berkeley.
"I have an affinity to Berkeley," he says. "I feel at home here. It surpasses understanding."