Buddhist Woman Awaits Prison for Protest
By Peggy Aulisio
paulisio@eastbaynewspapers.com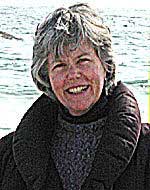 Katherine Brown

LITTLE COMPTON — As she walked along the beach at Westport Harbor on Wednesday, March 26, Katherine Brown picked up a few balloons from among the beach flotsam. She'd heard they are dangerous to wildlife.

The outing provided one more breath of fresh sea air for Ms. Brown as she prepares for her April 8 journey to a much different place — behind the bars of a federal prison.

The 52-year-old Little Compton resident is due for a three-month stay at federal prison in Danbury, Conn., for a Class B misdemeanor. She was arrested for trespassing at the Ft. Benning U.S. Army base, in Columbus, Ga., on Nov. 17, 2002.

Ms. Brown, who lives on Rock Bridge Road by Quicksand Pond, was among some 10,000 people who attended the protest against the School of the Americas. She said she protested the American-financed program because it trains "terrorists" -- or soldiers as the U.S. military identifies them -- to fight in South America. She was one of 86 people arrested because they crossed over a line onto the military base.

Asked how she feels about going to prison, Ms. Brown said her mind and emotions have run through a full spectrum. She used the words frightened, privileged, anxious, interested and curious.

"I travel through just about the full range in 10 minutes," she said.

A student of Zen Buddhism, she added, "As a Buddhist practitioner, that's one of the delightful things about the mind. It doesn't stand still. Sometimes I'm frightened even though there's nothing to be frightened about. A lot of things I'm reacting to haven't happened yet."

At least she'll be in good company. Three other protesters are also being sent to the federal prison in Danbury -- a Catholic nun and Lutheran lay minister, both from Wisconsin, and a youth worker in pastoral care from outside Boston.

Ms. Brown said there is legislation currently before the U.S. Congress to close the school or transfer its curriculum "so it is a school of peace and not torture and counterinsurgency." The bill in the House of Representatives is HR1258, sponsored by Rep. Jim McGovern of Massachusetts.

In the meantime, however, the School of the Americas operates legally, and trespassing there is a crime.

"They train terrorists in military skills to help further U.S. interests," Ms. Brown said. "I don't consider the interests actually being served to be mine."

Ms. Brown is a former professor at Creighton University in Nebraska, where she taught health policy and ethics. After leaving she studied Buddhism at Spirit Rock in Woodacre, California. She is currently living in a Little Compton summer house owned by her family while waiting to go to prison.

After years of teaching, Ms. Brown said she left because, "I wanted to become more engaged in social justice in the streets."

The protesters were from all walks of life and ages and included faith-based groups from a wide spectrum of churches, including Presbyterians, Catholics and Quakers. Ms. Brown called them "long-time proponents of non-violence."

She recalled feeling that, "I was in the company of these really bold, glorious people."

The protest group was given a permit for a "memorial service" during which they sang and chanted the names of people who had died under repressive regimes in South America. Among the incidents that inspired the protest were the deaths of Jesuit priests in El Salvador.

"As each name was said, the marchers moved toward the gates," she said.

Ms. Brown said the protesters chanted "presente" as they spoke the names and moved as if in a funeral march.

Ms. Brown said she did not expect to be arrested and would not have been if she had stayed on the allowed side of the line.

But then she found herself standing by the entrance where those "who were bold enough" did cross onto the base property where they were not allowed. Because of the heightened sense of national security following 9-11, Ms. Brown said the base was particularly conscious of security.

"I was deciding. There was a gap in the fence," she said. "There was a young boy there who had talked the night before about his father being taken by the military from his home."

Ms. Brown said he was "crying and smiling and looked at me." She recalled that it was "like a Buddha saying, 'Okay, you can do this, do this for everyone.'" So she did, Ms. Brown said, and she doesn't seem to regret it.