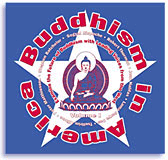 Buddhism in America

Vol. 1 - Cassette
VARIOUS AUTHORS

What happens when an ancient Asian spiritual tradition takes root in a brash young democracy? Ask the world's leading Buddhist teachers and thinkers this question, and you have Buddhism in America, Volume I, a historic collection of the most provocative and insightful sessions from the respected Buddhism in America national conferences. Here are the sometimes iconoclastic, always brilliant visions of those who are mapping out the present and future of American Buddhism.


Buddhism in America, Volume I, includes:

* Sogyal Rinpoche: The Future of Buddhism – "When I came to the West," recounts this native Tibetan scholar and teacher, "I relearned the Dharma." Sogyal Rinpoche shares his learned and cross-cultural perspectives on American Buddhism.

* Robert Thurman: Toward American Buddhism – It took Buddhism a thousand years to convince the warlike Tibetans to lay down their arms. How long will it be before America's army bases are converted into Dharma centers? A penetrating and entertaining session with this esteemed professor and author.

* Joan Halifax: Mindfulness and Compassionate Action – A Zen master surveys the challenges we all understand – consumerism, over-achievement, misdirected sexuality – and shows how to apply the Buddha's teachings in a culture he never experienced.

* Lama Surya Das: American Karma, One Dharma – Describing American Buddhism as "unorthodox," Lama Surya Das explores the special importance of the spiritual community sangha in the land of the rugged individual.

* Tsultrim Allione: Relationship and Intimacy As a Path – The author of Women of Wisdom shows how we can take advantage of our obsession with relationships to enter more deeply into the Buddhist practice of compassion.

* Peter Matthiessen: The Coming of Age of American Zen – A Buddhist priest and bestselling author reveals how the austere teachings of Japanese and Korean Zen lend themselves to the American tradition of social activism.

* Stephen Batchelor: Deep Agnosticism – Two dangers face Western Buddhism, warns Stephen Batchelor: applying the Dharma too loosely and adhering too rigidly to its Asian forms. The author of Buddhism beyond Beliefs brings new relevance to the Buddha's teaching of the "Middle Way."

LEARN MORE ABOUT:

* Dharma: its original meaning

* How Buddhism adapts across time and space

* America's emerging tradition of do-it-yourself Buddhism

* American Zen: how it is coming of age right now

* The parallels between agnosticism and Buddhism

* The "I Don't Know Mind" – why we should rest in it

* Two dangers Buddhism faces in the West

* The American sangha: what makes it so unique

* "Big Mind" – how it can help your intimate relationships

* The bliss at the core of our being: what it really is

* How materialism could lead to a "holocaust" for Buddhism today

* The keys to maintaining the authenticity of Buddhist teachings in America

* Egalitarian Buddhism: what it means in America's melting pot

* Plus ideas, insights, and teachings from seven of our most respected leaders and scholars of Buddhism today

Buddhism in America national conferences are held annually, and feature some of the West's leading Buddhist teachers, practitioners, artists, and activists. Each year, a weekend of seminars, workshops, and dialogue is dedicated to the discussion of the key issues facing American Buddism today.

6 CASSETTES IN BINDER
6 PAGE STUDY GUIDE
6.5 HOURS