Buddhism for Beginners at the Wilshire Boulevard Temple

Wednesdays... November 28, December 5 and December 12, 2007 - 7:30 PM
Three-night courses that will deepen your knowledge and awareness - and pique your interest!

For thousands of years, this Asian faith has drawn adherents from all over the world and from many different religious beliefs to practice many of its ways in an attempt to find deeper connections and inner peace. What makes Buddhism so attractive? Encounter its rich history, fascinating theology, and uniquely peaceful attitudes towards life, death, and what lies beyond.
--- --- --- --- ---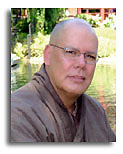 Ven. Kusala Bhikshu (Thich Tam-Thien) is an American born Bhikshu (monk) ordained in the Zen Tradition of Vietnam. -- www.kusala.info
In 1980 Kusala became interested in Meditation, and found his way to the International Buddhist Meditation Center. In 1981 he took refuge, and accepted the five precepts of a lay Buddhist, and was given the name Kusala (skillful). In 1983 with a growing interest in Early Buddhism he began his studies with the Ven. Dr. H. Ratanasara at the College of Buddhist Studies, Los Angeles.
In 1994 Kusala took novice vows, and was given the Dharma name Kusala Ratana Karuna (skillful jewel of compassion). In 1996 he received full ordination as a Bhikshu, and was given the name Thich Tam-Thien (heavenly heart mind) with the Ven. Dr. H. Ratanasara, and the Ven. Karuna Dharma as two of his ordaining masters. Along with Kusala's Bhikshu ordination he received a B.A. in Buddhist Studies, from the College of Buddhist Studies in Los Angeles.
Rev. Kusala lives and works at the International Buddhist Meditation Center in the Korea town section of Los Angeles. He cares for the grounds with the Vice Abbot Ven. Shanti, and facilitates meditation, and discussion groups. He continues to give presentations at local high schools, colleges, and local churches on Buddhism and social action. Kusala is the web-master for International Buddhist Meditation Center, as well as his own Buddhist site -- www.UrbanDharma.org
Kusala is a member of the Buddhist- Roman Catholic Dialogue of Los Angeles, the Wilshire Center Interfatih Council of Los Angeles, and the Interfaith Council of Garden Grove, Stanton, and Westminster. Kusala is Buddhist Chaplain for the University Religious Conference at U.C.L.A and director of the University Buddhist Association at UCLA. In 2000 Kusala was invited to join the UCLA Medical Center Spiritual Care Committee, and the Juvenile Justice Committee of Faith Communities for Families and Children.
In addition to his other duties Kusala Bhikshu gave presentations in the Los Angeles County Central Juvenile Hall on Buddhism and meditation for four years, and for a year taught blues harmonica at a juvenile probation camp in Malibu, CA. Before his work in juvenile hall and the probation camp, he spent one year as a volunteer at the Los Angeles County State Prison for men. In December of 1998 Kusala was given the "Good Samaritan of the Year" award for his work in juvenile hall by the Los Angeles County Probation Department.
In March of 2000 Kusala ended his volunteer work at Central Juvenile Hall, and accepted an invitation from the Garden Grove Police Department to become a police chaplain. Meditation, and yoga are still being taught at Central Juvenile hall thanks to the dedicated effort of various Buddhist volunteers and yoga teachers.
November of 2000 marked the beginning of his new position as the first Buddhist ride-along volunteer police chaplain in Garden Grove. On November 16, 2001 Kusala received a certificate of recognition from the California State Assembly, and a certificate of special congressional recognition from the United States Congress for his work with the Garden Grove Police Department.
--- --- --- --- ---


Daily Readings -- Buddha's Words of Wisdom
284 Pages - (1.8 MB) - Free
Daily Readings -- Buddha's Words of Wisdom — by Ven. S. Dhammika.

For over two thousand years the discourses of the Buddha have nourished the spiritual lives of countless millions of people. This ebook contains extracts of the early Buddhist discourses from the Pali Tipitaka, and also from some post-canonical writings. Presented so that one reading can be reflected upon each day of the year. This ebook is an indispensable companion for anyone trying to apply the Buddha's gentle message to their daily life.


A Dictionary / Encyclopedia of Buddhism
999 Pages - (* 4.7 MB) - Free

The Seeker's Glossary of Buddhism: A Dictionary / Encyclopedia of Buddhism - Sutra Translation Committee of USA/Canada
This is a revised and expanded edition of 'The Seeker's Glossary of Buddhism.' The text is a compendium of excerpts and quotations from some 350 works by monks, nuns, professors, scholars and other laypersons from nine different countries, in their own words or in translation.

How to use the Glossary: This book can be used in threeways: to find the definition of unfamiliar terms; to gain a broader understanding of specific Buddhist concepts; and also as an introduction to Buddhism. In the last instance, we suggest that readers begin with the entry on Parables, then move on to Practice, Obstacles to Cultivation and Ten Non-Seeking Practices. Other entries of a more contemporary interest can be read with benefit by all. These include: Birth Control, Organ Transplants, Vegetarianism, Universe, Immortality.


A Buddhist Pilgrimage
158 Pages - (3.26 MB) - Free
Buddhist Pilgrimage / 40 Color Photos + Maps — Chan Khoon San
The aim of this book is to share my experience and knowledge with fellow Buddhists about the benefits of undertaking a pilgrimage to the Eight Great Places with the correct mental attitude... The idea of a pilgrimage came from the Buddha himself. Before He passed into Mahaparinibbana, the Buddha advised pious disciples to visit four places that may be for their inspiration after He was gone.
They are Lumbini, where He was born; Buddhagaya, where He attained Supreme Enlightenment; Deer Park in Sarnath, where He preached the First Sermon; and Kusinara, where He passed into Mahaparinibbana. The pious disciple should visit these places and look upon them with feelings of reverence, reflecting on the particular event of the Buddha's life connected with each place. Since the Mahaparinibbana of the Buddha, these four shrines of Buddhism have become the focal points for pious disciples to rally around and seek inspiration. By the time of King Asoka, four more places, namely: Savatthi, Sankasia, Rajagaha and Vesali, that were closely associated with the Buddha and scenes of His principal miracles, were added to the pilgrimage itinerary. Together they make the Eight Great Places of pilgrimage.


The Nobel Eightfold Path
122 Pages - (1.2 MB) - Free
The Noble Eightfold Path — by Bhikkhu Bodhi

"One of the best explanations of the Eightfold path in print today!" The present book aims at contributing towards a proper understanding of the Noble Eightfold Path by investigating its eight factors and their components to determine exactly what they involve. Bhikkhu Bodhi is concise, using as the framework for his exposition the Buddha's own words in explanation of the path factors, as found in the Sutta Pitaka of the Pali Canon.


Women in Buddhism - Question & Answers
70 Pages - (795 KB) - Free
Women in Buddhism - Question & Answers — Ven. Chatsumarn Kabilsingh Ph.D.

Ven. Chatsumarn Kabilsingh provides answers to questions often asked about women and the ordination issue and related topics. She responds to such questions as: In the Buddha's time what role did women play in Buddhism? Why cannot women become buddhas? What is the Buddhist attitude towards prostitution? What is an attitude of a Buddhist towards abortion? What is the unique characteristic in American Buddhism which might interest a feminist?


Preparing for Death & Helping the Dying
66 Pages - (199 KB) - Free
Preparing for Death & Helping the Dying — Sangye Khadro.
This booklet is based on material used during a seminar that Sangye Khadro taught in Singapore and elsewhere, entitled "Preparing for Death and Helping the Dying." This seminar answers a genuine need in today's world, as expressed by one participant: "I am interested to know more about death and how to help dying people, but it's very difficult to find anyone willing to talk about these things." The material for the seminar is taken mainly from two sources: traditional Buddhist teachings, and contemporary writings in the field of caring for the dying. This booklet is meant as a brief introduction to the subject rather than a detailed explanation.


Urban Dharma Newsletter eBook - February 2004 to May 2004
17 Newsletters - 236 Pages - (555 KB) - Free
The Urban Dharma Newsletter eBook... This first Newsletter eBook is from February 2004 to May 2004. Seventeen newsletters in all, a total of 236 pages... With topics ranging from- Morality Without God, Buddhist Weddings, Ultimate Reality, and Zen Guitar, just to name a few... An easy way to keep the Urban Dharma Newsletters on you computer for reading or printing. More months to come.
- Buddhist Meditation -


Mindfulness In Plain English
105 Pages - (637 KB) - Free
Mindfulness In Plain English — Ven. Henepola Gunaratana

The subject of this book is Vipassana (Insight) meditation practice. Repeat, practice. This is a meditation manual, a nuts-and-bolts, step-by-step guide to Insight meditation. It is meant to be practical. It is meant for use. This book is a 'How to.' It is written for those who actually want to meditate and especially for those who want to start now.
There are already many comprehensive books on Buddhism as a philosophy, and on the theoretical aspects of Buddhist meditation. If you are interested in that material we urge you to read those books. Many of them are excellent. This book is a 'How to.' It is written for those who actually want to meditate and especially for those who want to start now. There are very few qualified teachers of the Buddhist style of meditation in the United States of America. It is our intention to give you the basic data you need to get off to a flying start. Only those who follow the instructions given here can say whether we have succeeded or failed. Only those who actually meditate regularly and diligently can judge our effort. No book can possibly cover every problem that a meditator may run into. You will need to meet a qualified teacher eventually. In the mean time, however, these are the basic ground rules; a full understanding of these pages will take you a very long way.


The Jhanas in Theravada Buddhist Meditation
52 Pages - (260 KB) - Free
The various subjects and methods of meditation expounded in the Theravada Buddhist scriptures -- the Pali Canon and its commentaries -- divide into two inter-related systems. One is called the development of serenity (samatha), the other the development of insight (vipassana). The former also goes under the name of development of concentration, the latter the development of wisdom. The practice of serenity meditation aims at developing a calm, concentrated, unified mind as a means of experiencing inner peace and as a basis for wisdom.
The importance of the jhanas in the Buddhist path can readily be gauged from the frequency with which they are mentioned throughout the suttas. The jhanas figure prominently both in the Buddha's own experience and in his exhortation to disciples. In his childhood, while attending an annual ploughing festival, the future Buddha spontaneously entered the first jhana. It was the memory of this childhood incident, many years later after his futile pursuit of austerities, that revealed to him the way to enlightenment during his period of deepest despondency (M.i, 246-47). After taking his seat beneath the Bodhi tree, the Buddha entered the four jhanas immediately before directing his mind to the threefold knowledge that issued in his enlightenment (M.i.247-49). Throughout his active career the four jhanas remained "his heavenly dwelling" (D.iii,220) to which he resorted in order to live happily here and now.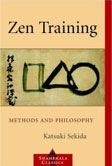 Zen Training: Methods and Philosophy by Katsuki Sekida - Available @ Amazon.com"
"Written by a lay teacher with 60 years of experience in zazan, this book provides everyone from absolute beginner to experienced student with detailed, progressive information and discussion on breathing, posture, distraction, actions of mind, physiology, mood, laughter, kensho, and samadhi."— Library Journal "An extraordinarily important book. It should be on the shelves of all libraries."— Choice "[Sekida's] approach is radical in its attempt to define Zen practice in terms of Western physiology and phenomenology."— New Age Journal
Amazon.com Review - This is one of the best books I've read on meditation, be it Zen of other. The author, a Japanese student of Zen, collected a seres of articles published in Hawaii on the topic of Zen Meditation, and published this great book. Starting from the very, very beginning, he will teach you how to breathe, how to sit correctly for meditation, how to count breaths and many techinques needed for correct achieval of Samadhi. He will also discuss spiritual and physical issues of Zen Meditation. In all, a very instructional book on the subject. Great for beginner or advanced meditators.
Amazon.com Review - The text is written by a laymen who taught high-school English and practiced/studied Zen in Japan. He later taught at several Zendos in Hawaii and in London... There are several benefits of this text. First, the writer's cultural background bridges translation problems and he focuses on accurate translation of the ideas and concepts. Second, the writer is a laymen which may help the more cynical reader be more open to different ideas. Third, he discusses the fine points of meditation technique in a semi-scientific approach that appeals to a western mechanistic paradigm--we aren't caught up in flowery, artsy-fartsy instruction which does have a place but not for many Westerners interested in the actual practice methods. Fourth, I found the author has suggestions for improving that I haven't seen anywhere else. Fifth, the text describes practice that allows the practitioner to improve the technique to adapt to their special needs which I believe is realistic and very much in-line with the original intent of Siddartha--this is to help free the practitioner from the small inaccuracies always found in a mechanistic approach.

A Loving Kindness Meditation
(Introduction)
May I be...
May my teachers and all teachers of the Truth be...
May my parents, brothers and sisters, friends and relatives be...
From the highest realm of existence to the lowest, may all beings arisen in these realms, with form and without, with perception and without, with consciousness and without, may they be...
(Repeat below after each introduction.)
...happy, peaceful and free from suffering.
May no harm come to me/them.
May no difficulties come to me/them.
May no problems come to me/them.
May I/they always find fulfillment.
May I/they also have patience, courage, understanding, and determination, to meet and overcome, the inevitable difficulties, problems, and failures in life.
* More Free eBooks can be found at: www.BuddhaBooks.info
--- --- --- --- ---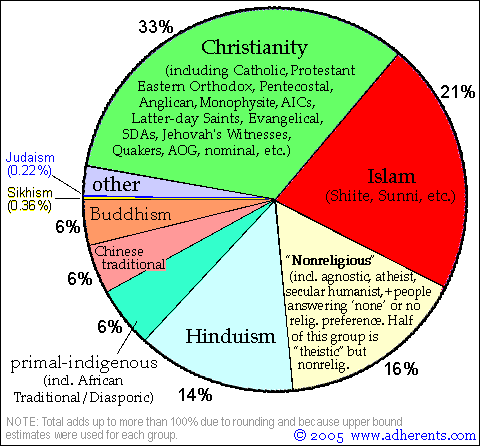 Major Religions of the World Ranked by Number of Adherents -- (Sizes shown are approximate estimates, and are here mainly for the purpose of ordering the groups, not providing a definitive number. This list is sociological / statistical in perspective.)

Christianity: 2.1 billion
Islam: 1.5 billion
Secular/Nonreligious/Agnostic/Atheist: 1.1 billion
Hinduism: 900 million
Chinese traditional religion: 394 million
Buddhism: 376 million
primal-indigenous: 300 million
African Traditional & Diasporic: 100 million
Sikhism: 23 million
Juche: 19 million
Spiritism: 15 million
Judaism: 14 million
Baha'i: 7 million
Jainism: 4.2 million
Shinto: 4 million
Cao Dai: 4 million
Zoroastrianism: 2.6 million
Tenrikyo: 2 million
Neo-Paganism: 1 million
Unitarian-Universalism: 800 thousand
Rastafarianism: 600 thousand
Scientology: 500 thousand
from -- www.adherents.com
--- --- --- --- ---