The Blues Harmonica and Buddhism -
- by
Kusala Bhikshu
"The Blues ain't nothing but a good man feeling bad."
(From - "Crossroads" with Ralph Macchio)
*** *** ***
The first time I heard someone play the blues on a harmonica, it moved me so much, I just had to learn how to play.

I found myself in McCabes Guitar Shop back in the 1980's and there on the shelf was a booklet and audio cassette, 'Blues Harmonica for the Musical Idiot' by David Harp. That's it, I fit all the qualifications. I bought it and started to practice. It was really frustrating at first. I would listen to a blues song and try and make the same notes happen. No matter how hard I tried or how long I played, it just didn't sound like the blues. I kept at it and in a couple of months something started to happen. I had moments of joy, happiness, and bliss, and my playing would sometimes turn into a kind of performance. The blues and all those feelings would just sort of happen. Most cool!

I started to carry the harp with me wherever I went, and when I found some time and space, would practice chords and bent notes. The blues harp is so portable and inexpensive, I bought a few of them, some for home and some for carry.

I started going to 'Blues' clubs in and around Los Angeles. The 1980's was a great time to be in LA, and listen to the blues. One of my favorite places was called the "Music Machine" on Pico Blvd in West LA. I saw some of the real legends play in the 1980's... Albert King, B.B. King, Willie Dixion, Albert Collins, Otis Rush, Buddy Guy, Brownie McGee, Junior Wells. And folks like... Roy Buchanan, Rory Block, Coco Montoya, William Clarke, James Harman, Kim Wilson, John 'Juke' Logan, Cephas & Wiggins, just to name a few.

My own style was turning into a kind of 'Country Acoustic'. Sort of like- Sonny Terry, Sonny Boy Williamson #1 and #2, Phil Wiggins with a little William Clarke thrown in for good measure.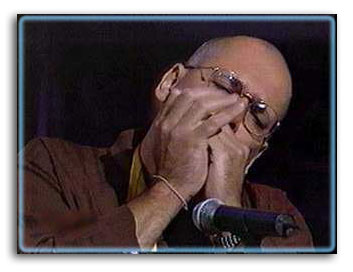 Rev. Kusala on Vibe / YouTube Video

The Vibe TV Show with Sinbad, "I was asked to speak about my work at Juvenile Hall and play
some Blues with the band... Sometimes life just happens, and you're along for the ride"


Well, 1994 came along, I took ordination as a Buddhist Monk in the Zen tradition and put my harmonicas to rest, or so I thought.

I became a volunteer at Central Juvenile Hall in Downtown Los Angles teaching Buddhism and meditation to the young folks behind bars. I went twice a week for four years and found other volunteers to help teach meditation, Yoga and Tai Chi.

I started to see, simply talking about suffering was not going to move these guy's and gal's to think about their lives. So one day I brought my harmonica to juvenile hall, and in the middle of a presentation, I started talking about the blues and how hard it is to live as a human being in a world filled with so much suffering. I pulled out the harmonica and played a tune. It blew them away. It was so unexpected. This Buddhist Monk guy, was playing the blues on a harmonica. A lot of the kids had never heard blues harmonica before, but it didn't matter they could feel it. They were living the blues!

During one of my years as a volunteer, I taught blues harmonica at a high risk juvenile probation camp in Malibu, CA. I was asked by a member of the camp staff (Mr. Eaton) if I would be interested in teaching blues harmonica? I said, "Yes, I'd be happy to give it a try." I was able to get some free harmonicas through a friend (Jeff Gold) who contacted John Popper (*Blues Traveler). John was kind enough to donate 'Hohner' harmonicas to the camp, and the program began. A few weeks into the program a professional guitar player (John McDuffie) volunteered to play, and put together a beginning music course for the kids. It was a lot of fun to share the blues with the guys, and they got to keep the harmonicas.

Those young guys heard the blues and it touched them. The suffering I speak about in my presentations on Buddhim was transformed into blues music for them. When they played, they played for real. It was their life they were playing about. For years folks feeling down and out, listened and played the blues to feel better. It's a doorway to the heart, a place of hope.

These days I don't play or practice as much as I used to, but the power of the blues still amazes me! It can heal and inspire. It's a musical meditation. When you the play blues, you are the music. The pains of the past and fears of the future, just fall away.

The story of the blues, fit nicely with the teaching's of the Buddha. "Life is filled with suffering," the Buddha said, and along the way there is joy and happiness, but it just doesn't last. As a Buddhist my message is, "Take refuge in the teaching's of the Buddha and end your suffering forever."

A friend once asked, "Doesn't playing the harmonica break a Buddhist precept?" "Yes and no" I said, "If I can play the blues and end some suffering, I suppose you could call my playing, skillful means."

--- --- ---


An interview with Kusala on his work and Practice.
In part 2 of his two part interview, Kusala starts off with talking about playing
his harmonica at juvenile hall and then plays some blues.
Part 2 of 2 / Some Harmonica Blues

--- --- --- ---


Recorded Live!!!
November 6, 2005 at "Center for Spiritual Living" in Simi Valley, California

"The Urban Dharma Blues" MP3 file /// Harold Payne and the One Spirit Band

--- --- ---
Rev. Kusala blowing some harmonica blues
with Andy Howe on Keyboards / Live at 'Center for Spiritual Living'
in Simi Valley, California / August 31, 2008


--- --- ---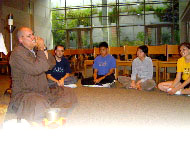 Rev. Kusala plays for the UCLA Buddhist Club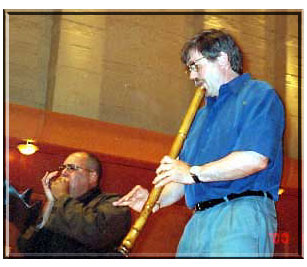 Rev. Kusala with Robert Jonas playing his Shakuhachi - Zen Flute
at a Buddhist/Christian Conference in Tacoma Washington.
---
"Adam is the real deal and has some of the best blues harmonica lessons on YouTube" ~ Rev. Kusala
Adam Gussow / 'YouTube' - Harmonica Lessons
From Adam's 'YouTube' Channel -- This channel features an ongoing series of free-form lessons in the subtleties of contemporary blues harmonica. Beginners will learn useful things here, but most of my conversation is oriented towards intermediate and advanced players who have learned some or most of the basic techniques but KNOW they are missing something. It's that "something" that I'm going to explore here. I'll also use this channel to share footage of Sterling "Mister Satan" Magee, Nat Riddles, and the other mentors and players from whom I've learned and with whom I've shared stages.
When I'm not uploading quick-hit blues harp lessons to YouTube... I'm an associate professor of English and Southern Studies at the University of Mississippi in Oxford, MS. I've published widely in the areas of American and African American literature, and I have three books to my name: MISTER SATAN'S APPRENTICE: A BLUES MEMOIR (1998), SEEMS LIKE MURDER HERE: SOUTHERN VIOLENCE AND THE BLUES TRADITION (2002), and the forthcoming JOURNEYMAN'S ROAD: MODERN BLUES LIVES FROM FAULKNER'S MISSISSIPPI TO POST-9/11 NEW YORK (2007). Between 1986 and 1998 I was the harmonica-playing half of Satan and Adam, a Harlem-based blues duo with three CDs on the Flying Fish and Rounder labels: HARLEM BLUES (1991), MOTHER MOJO (1993), and LIVING ON THE RIVER (1996).
| Adam Gussow | Living on the River |
| --- | --- |
Adam Gussow / YouTube



---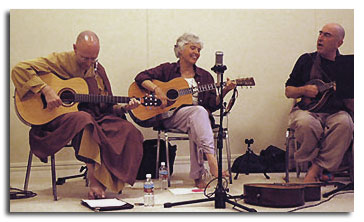 Music in the Dharma/Dharma in the Music
with Rev. Heng Sure, Betsy Rose & Alan Senauke - June 10, 2005
The joys and teachings of dharma flow through every human activity. The creation of sound and rhythm in the midst of space and silence has always helped people wake up to life. Music flourished in specific ways in every culture around the world, and it has the ability to cut through our perceived differences. Insight Meditation Center brings together three Western practitioners of Buddhism and of music. Their folk-rooted acoustic music combines traditionand innovation much as our practice here in California does the same. But the bottom line is that we can share and enjoy this music together. - Web Page


"Paramita" - Rev. Heng Sure & Friends
Paramita: American Buddhist Folk Music / MP3 / Amazon.com - Click Here
American Buddhist folk songs - Pioneering a new wave of Western Buddhist culture. Socially awake, talking about mad American Beef Cows, peak oil, and cause and effect, Rev. Heng Sure has been called "the Buddhist John Denver." These are clean, homespun tunes featuring guitar, banjo, mandolin, fiddle and dulcimer. The musicians helping out include some of the Bay Area's most experienced acoustic players: Henry Kaiser, Alan Senauke, Paul Hostetter, Josh Michaell, Robin Petrie, and Brian Godchaux.
"Rev. Heng Sure embodies what's best in contemporary Western Dharma: deep wisdom and compassion cultivated over many years of practice combined with a playful spirit, warmth and accessibility that delight and inspire. These songs touch us in a way that makes us want to act to make the world a better place. And it's darn good music!"
-- James Baraz, Spirit Rock Meditation Center
---
"Crossroads"
- Ralph Macchio, Joe Seneca, Jami Gertz -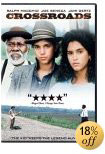 "Crossroads" @ Amazon.com -- The legend of Mississippi blues master Robert Johnson has served as a fountainhead for generations of blues and rock musicians, as well as a powerful fable for the dark, often violent mysteries of delta blues. Johnson's mythic deal with the Devil, in exchange for his extraordinary musical gifts, has become a fixture in blues lore and an example of the enduring pull of superstitions that can be traced back to Mother Africa and Yoruba deities. Producer-director Walter Hill (The Long Riders, Streets of Fire) sought to put this uniquely American mystery on film, but when he was unable to secure a script devoted directly to Johnson himself, Hill bravely decided to proceed with a more oblique, allegorical story that retold the Satanic bargain through a fictionalized drama set in the present day. In this 1986 feature, the hero is Eugene, a classically trained guitar virtuoso pulled toward the earthier powers of blues. When he stumbles across a lost blues legend, Willie Brown (a real blues figure and Johnson peer known for his partnerships with Charley Patton and Son House, among others), Eugene begins an odyssey back to the delta country and the crossroads of the title, where both Willie and Johnson had traded their souls for blues power.

An opening sequence, shot in sepia-toned black and white, dramatizes Johnson's own supernatural encounter, as well as one of the bluesman's historic Texas recording sessions, and Hill's visuals combine with Ry Cooder's reliably authentic slide guitar and Sonny Terry's blues harmonica to offer a convincing link to blues history. -- edited Amazon.com review



---


"The American Folk Blues Festival 1962-1969"
Volumes One, Two and Three


The American Folk Blues Festival was an annual event that featured the cream of American blues musicians barnstorming their way across western Europe every fall from 1962 through 1969. Recorded live in a small TV studio in Germany, these historic and unseen performances have been lost for nearly 40 years. Filmed with superb camera work and pristine sound, each DVD contains 18 complete performances from the greatest blues musicians of all time. Captured during their heyday in an era of scant video documentation, these DVDs are truly one of the most unique and precious visual documents of the blues.


AFBF - Volume 1 @ Amazon.com -- Songs: Call Me When You Need Me (T-Bone Walker), Hootin' Blues (Sonny Terry & Brownie McGhee), The Blues Is Everywhere (Memphis Slim), I Can't Quit You Baby (Otis Rush), Another Night to Cry (Lonnie Johnson), Women Be Wise (Sippie Wallace), Hobo Blues (John Lee Hooker), Five Long Years (Eddie Boyd), Shakey's Blues (Walter 'Shakey' Horton), Hoodoo Man Blues (Junior Wells), Mean Stepfather (Big Joe Williams), Going Down to the River (Mississippi Fred McDowell), Weak Brain and Narrow Mind (Willie Dixon), Nine Below Zero (Sonny Boy Williamson), Spann's Blues (Otis Spann), Got My Mojo Working (Muddy Waters), Bye Bye Blues (Muddy Waters, Sonny Boy Williamson, Memphis Slim, Willie Dixon) --- Bonus track from Earl Hooker in 1969, "Walking the Floor Over You/Off the Hook



AFBF - Volume 2 @ Amazon.com -- Songs: Bye Bye Bird, My Younger Days (Sonny Boy Williamson), Come On Home Baby (Sunnyland Slim), Nervous (Willie Dixon), Mojo Hand (Lightnin' Hopkins), Black Snake Blues (Victoria Spivey), Everyday I Have the Blues (Memphis Slim), Don't Throw Your Love on Me so Strong (T-Bone Walker), Tall Heavy Mama (Roosevelt Sykes), Sittin' and Cryin' the Blues (Willie Dixon), Murphy's Boogie (Matt "Guitar" Murphy), Stranger Blues (Sonny Terry & Brownie McGhee), Shake for Me, I'll Be Back Someday, Love Me Darlin (Howlin' Wolf), Down Home Shakedown (Big Mama Thornton) --- Two bonus tracks from Magic Sam in 1969: All Your Love and Magic Sam's Boogie





AFBF - Volume 3 @ Amazon.com -- Songs: Hound Dog (Big Mama Thornton), Gulfport Boogie (Roosevelt Sykes), Out of Sight (Buddy Guy), Feel So Good (Dr. Isaiah Ross), Flip, Flop & Fly (Joe Turner), All Night Long (Skip James), Crow Jane (Skip James), Got Sick & Tired (Bukka White), Death Letter Blues (Son House), Wild About You (Hound Dog Taylor/Little Walter on harp), Wang Dang Doodle (Koko Taylor), Stranger Blues, Burnt Child (Afraid of Fire), Move Across the River (Sonny Terry & Brownie McGhee), The Blues Ain't Nothin' But a Woman (Helen Humes) --- Bonus tracks: Earl's Boogie (Earl Hooker), Long Distance Call, I Got My Mojo Working (Muddy Waters)



Amazon.com - Review: In any context, on any stage, these performers all have presence to spare. Considering the source (Euro TV) and the age of the film (some over 40 years old), I was completely blown away. There's no disappointment anywhere in these DVDs, and what a great variety of classic blues! Electric guitars, acoustic guitars, slide guitar work, male vocalists, female vocalists, Chicago style, Delta style, slow tunes, upbeat tunes, these DVDs have it all, by the absolute best in the business!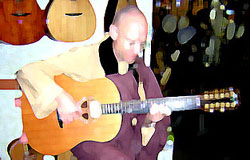 Also See: Zen Guitar