The International Buddhist Meditation Center's
Grand Ordination Ceremony
on December 10, 1994.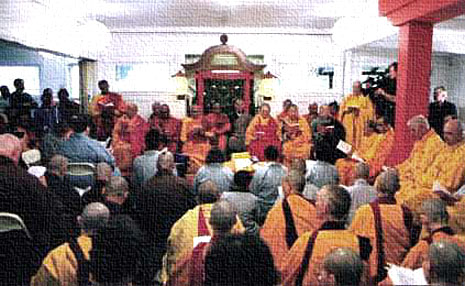 An American disciple of an Asian master ordained her own disciples as bhikkus. Ven. Dr. Karuna Dharma, a fully ordained bhikkuni the Abbess of IBMC led the ceremony with the blessing of the most elder monk present, Ven. Dr. Havanpola Ratanasara.
The founder of our Center, Ven. Dr. Thich Thien-An, believed that American Buddhism needs to contain all traditions. In that spirit, over thirty masters representing the three major traditions of Buddhism -- Theravada, Mahayana and Vajrayana -- joined in the ceremony. Female masters took an equal role with male masters.
The masters were from many countries, all with temples in the U.S.: Vietnam, China, Korea, Japan, Sri Lanka, Thailand, Tibet and America. Thirty-seven people took ordination at different levels. Seven Western nuns in the Tibetan tradition took bhikkuni ordination with the permission and participation of their masters. Full ordination is not available to women in the Tibetan lineages. One Vietnamese Theravadan nun also took full ordination, ordinarily unavailable in that tradition as well.
Despite these firsts, the ceremony itself was the traditional one, dating back to the earliest Buddhist times. The lineage at the International Buddhist Meditation Center is also directly from the Buddha, through the Lam-Te School in Vietnam to the American Buddhism of today.