College of Buddhist Studies / 1983 - 2003
---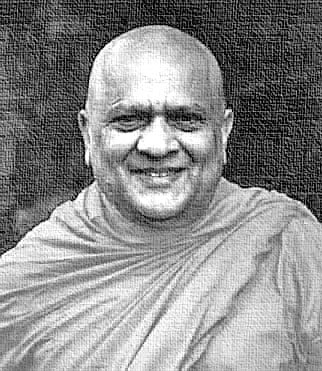 The College of Buddhist Studies was instituted in 1983 by the Buddhist Sangha Council of Southern California in answer to the growing desire for more Buddhist education than the temples could provide. Ven. Dr. Havanpola Ratanasara has been the president since the college's founding.
The College offers students a unique opportunity to experience a comprehensive in-depth study of Buddhism from a non-sectarian point of view, while also promoting knowledge and understanding of the different schools and cultural traditions within Buddhism.
The College of Buddhist Studies trains Buddhist monks of all traditions as well as American laypeople in a greater understanding of the Dharma, especially as set forth in the Tripitaka, the original Buddhist canon. Theravada, Mahayana, and Vajrayana traditions are taught as well as Buddhist psychology and the Pali language.
In order to meet the special needs of Buddhism in the U.S. and to help those interested in spreading the dharma learn the techniques of ministry traditional in the U.S., special emphasis is placed on the training of Buddhist ministers who are thoroughly knowledgeable in the dharma, Buddhist philosophy and tradition, and in pastoral counseling and Buddhist psychology. Other practical management techniques are also taught to ensure the economic success of new centers.
The College realizes that most Westerners come to Buddhism through an intellectual approach and endeavors to present courses that address the realistic, practical, intellectual concerns of the typical Western student. One of the most popular courses that meets this objective is the Sutra Studies course taught on Thursday evenings by Ven. Dr. Ratanasara. This course examines the Tripitaka in an on-going series of classes which are suitable for the degree student as well as for those who are only able to drop in from time to time. The discussions led by Dr. Ratanasara are stimulating and highly informative.
Courses are taught by scholars and masters of a variety of traditions, taking advantage of Southern California's uniqueness: the only place in the world where all Buddhist denominations and ethnic traditions are found, allowing the student the opportunity to study not only the philosophy and psychology of Buddhism but also to experience its richness of practice at the International Buddhist Meditation Center and other temples in the area.

___ ___ ___


The College of Buddhist Studies
1983 - 2003
A major project of the Sangha Council of Southern California and the Ven. Dr. H. Ratanasara was 'The College of Buddhist Studies'. First begun in September of 1983, the college closed its doors in 2003. The College offerd a variety of courses in Buddhism and Asian languages, both canonical and modern. The College curriculum was divided into two sections: the program of academic studies and the program of community course studies.
An important part of the College program was the year long Dharma Teacher's Course, designed for serious students who wanted a systematic study of the development of Buddhism from its beginning roots.